Lazer Lamps Kühlergrill LED Fernscheinwerfer Satz - Standard - Caddy 2015-
Preis

459,00 €

+ MwSt ( 582,93 € )

Hersteller

Artikelnr.

GK-VWCA-02K

• Bespoke vehicle integration kit for Lazer LED Spotlight installation
• Custom fit for VW Caddy (2015+)
• Designed for use with Linear-6 High Performance LED Spotlights
• Kit also includes bespoke mounting brackets and two-lamp wiring kit
• Brackets made from high strength, UV -stable, ASA material
• Fully road-legal
• 5-year warranty
• Made in Britain

Verfügbarkeit

Produktionzeit 3 Woche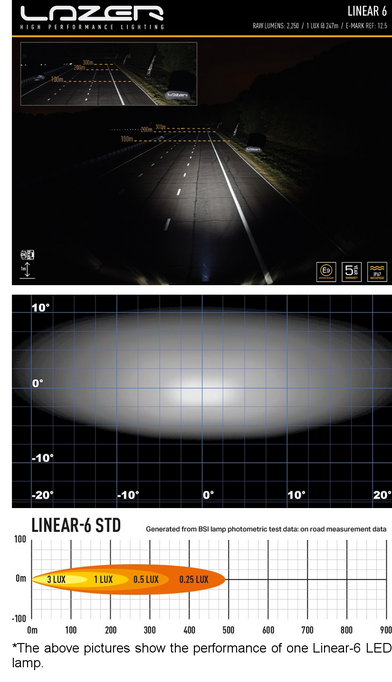 • For an OE quality, auxiliary spotlight installation, the Lazer Grille Integration Kits include bespoke mounting brackets which allow for quick and easy fitting of Lazer High Performance LED Spotlights within the front grille of the most popular road cars, pick-up trucks, and light commercial vehicles. Designed to blend seamlessly within the original styling of each vehicle, the resulting lighting setup remains fully robust and secure, with extra protection against theft.
The VW Caddy kit, designed for MY15 vehicles onwards, includes a pair of Linear-6 Standard LED driving lights, plus wiring kit, alongside 4x brackets precision-engineered to engage perfectly with the standard centre grille on the vehicle. Made from ASA material, known for its excellent strength and UV stability, the brackets are fully weather and chemical resistant to ensure your installation remains in great condition year after year.

Linear-6 Standard LED lamp (one piece of lamp details)

• This lamp utilises highly efficient 3W LED technology, which combine to deliver 2,250 lumens, and 1 Lux to near 250m; impressive considering the lamp only consumes 21W and with a current draw of 1.5Amps. The light distribution can be best described as 'wide' which taking nothing away from the enviable distance illumination, does provide for a comfortable left/right spread of light, with a comparatively lower up/down spread (when compared to the equivalent ST or Triple-R product), that makes the Linear-6 especially well suited to lower install positions, such as vehicle grille or number plate mounting.

What's included:

• x2 Linear-6 LED Sportlights
• x1 Mounting Kit (comprising 4x Brackets and fasteners)
• x1 Two-Lamp Wiring Kit
• x1 Installation Instructions
 
Based on standard setup i.e. x2 Linear-6 Lamps:
 

Voltage Range

9-32V

LED Life

50,000 hours

Weight

1 kg

HIGH BEAM FUNCTION

Total Luminous Flux

4500 Lm

Number of High Output LEDs

2 x 6

Power Consumption

42 Watts

Current Draw (at 14.4V)

3 Amps

CERTIFICATION

High Beam

ECE R112

ECE Reference

12.5 x2