Lazer Lamps Kühlergrill LED Fernscheinwerfer Satz - ST Evolution - Transporter T6 2015-
Preis

519,00 €

+ MwSt ( 659,13 € )

Hersteller

Artikelnr.

GK-T6-01K

• Bespoke vehicle integration kit for Lazer LED Spotlight installation
• Custom fit for VW Transporter T6
• Highline/Trendline models only
• ST4 Evolution High Performance LED Spotlights
• Kit also includes bespoke mounting brackets and two-lamp wiring kit
• Brackets made from high strength, UV -stable, ASA material
• Fully road-legal
• 5-year warranty
• Made in Britain

Verfügbarkeit

Produktionzeit 3 Woche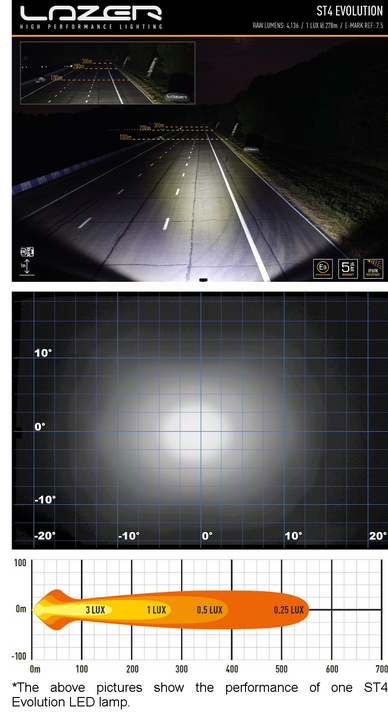 • Whatever the job, whatever the destination, get there quicker, get there safer, get there in style with our bespoke grille integration kit, featuring a pair of our ST4 Evolution high performance LED spotlights, effortlessly set within the front grille of the Volkswagen Transporter van.
For an OE quality, auxiliary spotlight installation, the Lazer Grille Integration Kits include bespoke mounting brackets which allow for quick and easy fitting of Lazer High Performance LED Spotlights within the front grille of the most popular road cars, pick-up trucks, and light commercial vehicles. Designed to blend seamlessly within the original styling of each vehicle, the resulting lighting setup remains fully robust and secure, with extra protection against theft.
The Volkswagen Transporter T6 kit, includes a pair of ST4 Evolution High Performance LED driving lights, plus wiring kit, alongside 4x brackets precision-engineered to engage perfectly with the standard centre grille on the vehicle. Made from ASA material, known for its excellent strength and UV stability, the brackets are fully weather and chemical resistant to ensure your installation remains in great condition year after year.

ST4 Evolution LED lamp (one piece of lamp details)

• Upgraded high-density 11W LEDs are carefully selected for their high 'bin' rating, and deliver 4,136 lumens. Advanced electronic design, combined with sophisticated thermal management systems, and ultra-reflective vacuum-metallized reflectors, harness the light output into a 'Drive' beam pattern optimised for lower speed applications where the priority is for good all-round visibility, albeit still with enviable distance illumination - 1 lux is achieved at 278m.

What's included:

• x2 ST4 Evolution LED Sportlights
• x1 Mounting Kit (comprising 4x Brackets and fasteners)
• x1 Two-Lamp Wiring Kit
• x1 Installation Instructions
 
Based on standard setup i.e. x2 ST4 Evolution LED Lamps:
 

Voltage Range

9-32V

LED Life

50,000 hours

Optical Efficiency

92%

Weight

2 kg

HIGH BEAM FUNCTION

Total Luminous Flux

8272 Lm

Number of High Output LEDs

2 x 4

Power Consumption

94 Watts

Current Draw (at 14.4V)

6.6 Amps

CERTIFICATION

High Beam

ECE R112

ECE Reference

7.5 x2