Beschreibung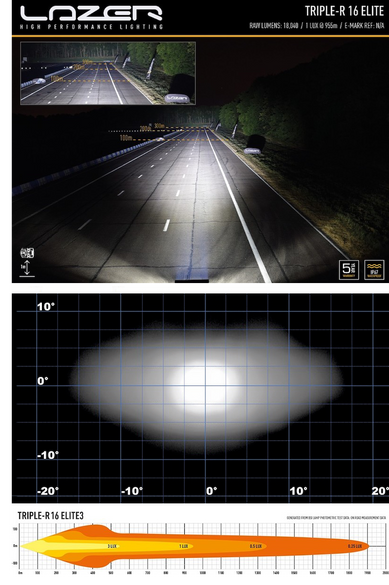 • Incorporating much of the same component technologies as used in our 2018/9 WRC lighting solutions, the Triple-R 16 Elite, 3rd Generation, is a high-performance auxiliary LED driving light, that doesn't fail to impress. Generating 18,040 raw lumens and 1 lux to nearly 1km, this is a product that delivers astonishing distance illumination, but with a spread of light in the mid to long-range which is guaranteed to make any night-time, or low-level light driving, an altogether safer and more pleasurable experience.

• Measuring 765mm in length, the Triple-R 16 Elite-3 is on the one hand big enough to deliver astonishing levels of light output, and on the other still small enough to be effortlessly integrated on a large number of: pick-ups, 4x4s, light commercial vehicles, and heavy trucks. In this respect the versatility of the lamp is that it delivers lighting performance more akin to much larger products, which aren't so easy to mount on such a wide range of vehicles.

• With light distribution optimised utilising the latest and most sophisticated CAD design and light simulation software, coupled with extensive testing and feedback across the road and professional motorsport sectors, there really is no compromises made in regards lighting performance or reliability. An improved distribution of light left/right is made possible in part by the combination of highly efficient LEDs, which on the one hand deliver outstanding distance illumination, and on the other, provide for the impressive levels of illumination at the side of the road in the mid to long-range. No stone is left unturned in the pursuit of perfection; from the distribution of light, to the carefully selected 5000 kelvin colour temperature proven to improve sharpness and definition of the road ahead, to the advanced electronics and material design which drives the high-end styling of the lamps and superior build quality, this is a product to both impress and be relied upon.

• As with all Triple-R products, the Elite range has been designed and built in the UK, with an uncompromising commitment to maximising light output and reliability. Alongside a CAE optimised heatsink, an electronic thermal management system provides further confidence that the Triple-R's light output is always maximised whatever the environmental and thermal conditions of the lamp. Anodised and powder coated, the lamp benefits from superior corrosion resistance, while a lifetime guarantee on the hard-coated polycarbonate lens, combined with a comprehensive 5-year warranty provide further reassurance for owners.

Parameters
What's included:

• x1 Triple-R 16 Elite LED Lamp
• x2 Centre Mount (1114k)
• x1 Side Bracket Kit (1118k)
• x1 Single-Lamp Wiring Kit with Switch (1L-HP-300)
• x1 Wiring and Installation Instructions
 
Technical data:
 

Voltage Range

10-32V

LED Life

50,000 hours

Weight

2.84 kg

High beam function

Total Luminous Flux

18040 Lm

Colour Temperature

5000k

Number of High Output LEDs

16

Power Consumption

208 Watts

Current Draw (at 14.4V)

14.4 Amps

Certification

High Beam

Not certified

E-Mark Ref

Not certified

Dimensions

Width

765 mm

Depth

105 mm

Height

73 mm

Photometric data

0.25 lx Line

1920 metres

0.5 lx Line

1358 metres

1 lx Line

960 metres

3 lx Line

554 metres

Beam spread

Horizontal

30 degree spread

Vertical

15 degree spread