Beschreibung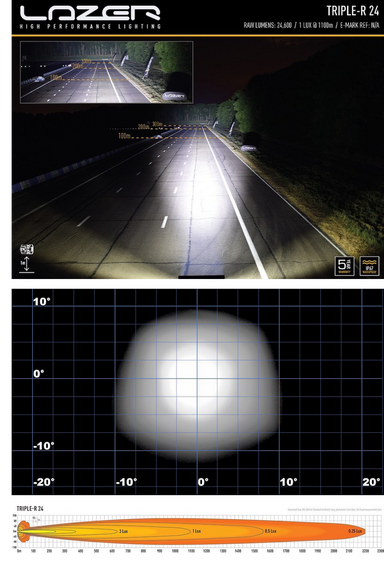 • The Triple-R light bar range brings motorsport and world rally performance to the off-road market. Compared with the equivalent 'drive' optic (T24) product, the Triple-R 24 delivers 5x the peak intensity to deliver a mid-long range LED solution which leaves little to the imagination for all night-time off-road driving and recreational use.

• Tuned for a spot beam pattern, while still achieving a decent spread of light in the mid-long range, the Triple-R 24 comprises 24 high power LEDs producing 24,600 lumens at only 270 watts. The light delivers 1 lux at an awe-inspiring distance of 1100m; while at 44" in length, the light is the perfect match of maximum illumination with feasible mounting options for many off-road vehicles. Through the use of the Triple-R Reeded Lens system, the beam pattern can be easily tailored to provide additional spread when, or if, required.

• Comprising our unique vacuum metallised hooded reflector system (with 100% light utilisation), a CAE optimised heatsink, and electronic thermal management system, the light output from the Triple-R 24 is optimised at all times. Furthermore, the rear-facing orientation of the LEDs reduces 'scatter' and enhances lighting performance in environments where fog or dust is prevalent.

• As with all Lazer products, we design our products in-house utilising the latest and most advanced component technologies to maximise performance and reliability. The unique styling of the Triple-R range alongside a fully aluminium enclosure, gore-tex breather membrane, and virtually unbreakable polycarbonate lens cover, means the Triple-R 24 will look good in even the toughest of environments.

• The light comes supplied with vehicle wiring kit and both side brackets and sliding centre mounts, to ensure maximum flexibility and ease of vehicle fitment. For off-road driving the Triple-R 24 delivers a level of lighting performance which needs to be seen to be believed.

Parameters
What's included:

• x1 Triple-R 24 Elite LED Lamp
• x2 Special Mount for Fixing, with the needed Screws
• x1 Wiring Harness, with Switch and Relay
 
Technical data:
 

Voltage Range

10-32V

LED Life

50,000 hours

Weight

4.14 kg

High beam function

Total Luminous Flux

27060 Lm

Colour Temperature

5000k

Number of High Output LEDs

24

Power Consumption

312 Watts

Current Draw (at 14.4V)

21.7 Amps

Certification

High Beam

Not certified

E-Mark Ref

Not certified

Dimensions

Width

1125 mm

Depth

105 mm

Height

73 mm

Photometric data

0.25 lx Line

2352 metres

0.5 lx Line

1663 metres

1 lx Line

1176 metres

3 lx Line

679 metres

Beam spread

Horizontal

30 degree spread

Vertical

15 degree spread