Beschreibung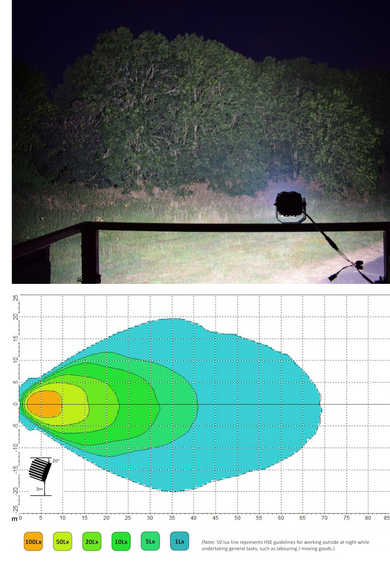 • The Utility-45 is a heavy-duty work light upgraded in 2018 to deliver even more visibility, with greater intensity and improved spread of light, facilitating safer and more productive work environments. The 50 lux line, defined by HSE as the effective level of illumination when working outdoors at night, is achieved at 16m distance, with a spread of 10m (mounted at 3m with 20 degree down angle). Combined with design features for maximising functionality and reliability, this is a product that can be relied on to deliver exceptional performance, time after time, whatever the application.

• Continual improvement in, and adoption of, the latest and most efficient LED technology means the Utility Series stands apart from other work light solutions. 4 high density LEDs deliver 4,560 raw lumens which is harnessed through ultra-reflective, vacuum-metallised optics designed and engineered in the UK using advanced CAD design and light simulation software. The result – more light distributed over a bigger area, and with the LEDs carefully selected for their colour temperature, proven to maximise definition while reducing fatigue and strain that can come from using higher colour ranges.

• The consistently high level of light output is maintained through an innovative CAE optimised 'Matrix' cooling system; the increased surface area ensures heat generated during operation of the lamp is more efficiently dissipated away from the unit. This process allows the light output to be maximised for longer, simultaneously the Electronic Thermal Management system optimises light output considering the environmental and thermal conditions of the lamp.

• Lighting performance aside, the Utility Series is a product built to last, and to withstand the harshest of environments. The polycarbonate lens with hardcoat, is now bonded in place to guarantee water-tightness, and in keeping with the comprehensive 5 year warranty, the lamps have been extensively tested to comply with EU regulations in relation to vibration, shock, and corrosion resistance, and alongside a super-tough construction, advanced electronic design ensures full EMC protection to CISPR-25 (Class 3) standards.

• Supplied with male/female Deutsch connectors (part no. DT06-2S/DT04-2P), the Utility-45 is available with a choice of 'Wide' or 'Slimline' mounting bracket. Lamps with additional cable protection are available where the installation is being made onto trucks required to comply with ADR regulations.

Parameters
What's included:

• x1 Utility-45 LED Work Lamp
• x1 Mounting Bracket
 
Technical data:
 

Voltage Range

9-32V

LED Life

50,000 hours

Colour Temperature

5,000 Kelvin

Weight

1260 gr

HIGH BEAM FUNCTION

Total Luminous Flux

4560 Lm

Number of High Output LEDs

4

Power Consumption

45 Watts

Current Draw (at 14.4V)

3.1 Amps

CERTIFICATION

Work Lamp

ECE R10

IP Rating

IP67 / IP69K

Salt Spray Test

ISO 9227 (250H)

EMC Protection

CISPR-25: 2008 (Class 3)

OPERATING CONDITIONS

Shock

TBC

Vibration (BS EN 60068)

10 Hz - 2000 Hz, 10 gn

Operating Temperature

-40°C ... +90°C

DIMENSIONS

Width

110 mm

Depth

85 mm

Height

108 mm

PHOTOMETRIC DATA

1 lx Line

69 m

5 lx Line

41 m

20 lx Line

23 m

50 lx Line

16 m*

 
 

* 50 lx represents HSE guidelines for effective illumination when working outdoors at night.