Lazer Lamps Triple-R 1000 Standard LED Fernscheinwerfer - Hohe Reichweite
Preis

389,00 €

+ MwSt ( 494,03 € )

Hersteller

Artikelnr.

00R8-Std-B

• 'E-Boost' technology for dual output functionality
• Ultra long range optics
• High output LED's from world leader in LED technology
• CAE optimised heatsink
• Electronic thermal management system
• 'Unbreakable' polycarbonate lens
• Unique styling
• IP67 Watertight
• 5 year warranty
• Comes as standard with 70cm cable, including pre-wired male & female connectors
• Supplied mount can also be placed above the unit for top mounting
• Designed & manufactured in the UK

Verfügbarkeit

Auf Lager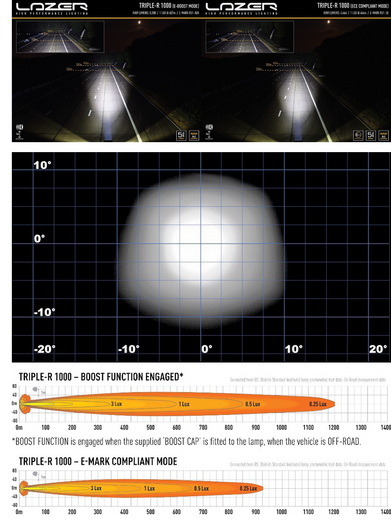 • The Triple-R 1000 Standard features world-first E-BOOST technology, a patent pending innovation from Lazer which, via contactless technology contained within the BOOST CAP, gives the lamp dual output to be both compliant with ECE lighting regulations, plus additional output when being used off road or at a motor sport event. In road legal mode, the lamp is running at 60% of it's output capacity, switching to 100% output when the boost cap is fitted to the side of the lamp.

• With over 5x the peak intensity of the hybrid beam pattern achieved by the equivalent ST8 / RS8 lights, the Triple-R 1000 delivers an ultra-long range LED lighting solution perfect for everyday use. Designed around the requirements of the track and rally racing sectors, and through an uncompromising commitment to using the best quality components and manufacturing processes, the Triple-R 1000 delivers a phenomenal amount of illumination for night-time driving.

• With the boost cap fitted, the light achieves 1 lux at 607m. The Triple-R 1000 delivers on performance through a combination of the latest LED technology, vacuum metallised hooded reflectors (with 100% light utilisation), a CAE optimised heatsink, and electronic thermal management system which ensures light output is optimised at all times. Comprising a 'spot' beam pattern, the light achieves 35m 1lux spread at 350m. The unique styling of the Triple-R range alongside a fully aluminium enclosure, gore-tex breather membrane, and virtually unbreakable polycarbonate lens cover, means the Triple-R 1000 will look good in even the toughest of environments.

What's included:

• x1 Triple-R 1000 LED Lamp (with E-Boost cap)
• x2 Centre Mount (1114k)
• x1 Wiring and Installation Instructions
 
Technical data in (100%) E-Boost mode:
 

Voltage Range

9-32V

LED Life

50,000 hours

Optical Efficiency

92%

Weight

1420 gr

HIGH BEAM FUNCTION

Total Luminous Flux

8200 Lm

Number of High Output LEDs

8

Power Consumption

90 Watts

Current Draw (at 14.4V)

6.25 Amps

DIMENSIONS

Width

410 mm

Depth

103 mm

Height

73 mm

PHOTOMETRIC DATA

0.25 lx Line

1214 metres

0.5 lx Line

858 metres

1 lx Line

607 metres

3 lx Line

350 metres

BEAM SPREAD

Horizontal

18 degree spread

Vertical

21 degree spread

 

* 'Start-up time' is the delay between the lamp receiving voltage, and light being emitted. Different Lazer lamps have different start-up times, depending on their electrical architecture, so we recommend that if you are buying two different types of Lazer lamp, for mounting on to the same vehicle, that you ensure you pick products with matching start-up time (either 5ms or 100ms, depending on the product). Please check the lamps technical section on each product page to be sure you are purchasing lights with the same start-up time for the best performance.