Beschreibung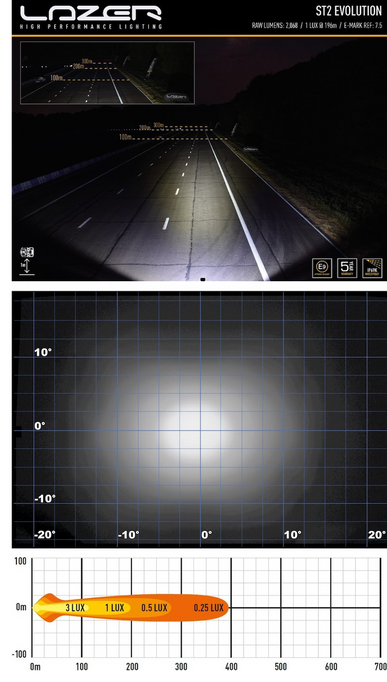 • Now available as an ECE approved road-legal driving light, the ST2 Evolution is our smallest spotlight but still manages to deliver a noticeable upgrade when compared to standard vehicle high beam lighting. With useable light (0.25lux) extending to nearly 400m, size is no barrier to performance, and at a mere 124mm in length the ST2 becomes the obvious choice when space is at a premium, or for complimenting other forward-facing lighting solutions, where the lamps may be angled to achieve an overall greater spread of light.

• Like all products in the ST Evolution range, the ST2 utilises upgraded high-density 11W LEDs which are carefully selected for their high 'bin' rating, and deliver 2,068 lumens. Advanced electronic design, combined with sophisticated thermal management systems, and ultra-reflective vacuum-metallised reflectors, harness the light output into a 'Drive' beam pattern optimised for lower speed applications where the priority is for good all-round visibility. The colour temperature of the LEDs at 5000 kelvin has also been specifically selected to maximise sharpness and definition, while proven to reduce eye-strain associated with some higher (blue-white) colour temperatures.

• Performance aside, the ST2 Evolution is built to last. With a 5 year warranty as standard, and a lifetime guarantee on the 'unbreakable' polycarbonate lens, which is coated with a hardcoat lacquer to protect against any scratches, the lamp is capable of withstanding the harshest environments. An IP69K rating certifies the lamp will not be subjected to moisture or dust ingress, with additional counter-measures to ensure the unit remains fully contained even in the most extreme of temperatures and humidity. The full aluminium housing gives the lamp its strength and rigidity, while an e-coat pre-treatment provides automotive quality corrosion resistance. Dynamic drive modulation optimises light output considering the thermal conditions of the lamp (preserving the longevity of the LEDs).

• With a seamless, low profile design, the new ST Evolution range is now not only easier to install, but is more resistant to dirt, snow and ice accumulations, and the contemporary styling is guaranteed to complement and enhance the appearance of modern vehicles.

Parameters
What's included:

• x1 ST2 Evolution LED Spotlight
• x1 U-Shaped Bracket (1122k)
• x1 Wiring and Installation Instructions
 
Technical data:
 

Voltage Range

9-32V

LED Life

50,000 hours

Weight

430 gr

HIGH BEAM FUNCTION

Total Luminous Flux

2068 Lm

Number of High Output LEDs

2

Power Consumption

23 Watts

Current Draw (at 14.4V)

1.6 Amps

Start-up Time *

100 ms

CERTIFICATION

High Beam

ECE R112

ECE Reference

7.5

DIMENSIONS

Width

124 mm

Depth

68 mm

Height

64 mm

PHOTOMETRIC DATA

0.25 lx Line

393 metres

0.5 lx Line

278 metres

1 lx Line

196 metres

3 lx Line

113 metres

BEAM SPREAD

Horizontal

28 degree spread

Vertical

24 degree spread

 

* 'Start-up time' is the delay between the lamp receiving voltage, and light being emitted. Different Lazer lamps have different start-up times, depending on their electrical architecture, so we recommend that if you are buying two different types of Lazer lamp, for mounting on to the same vehicle, that you ensure you pick products with matching start-up time (either 5ms or 100ms, depending on the product). Please check the lamps technical section on each product page to be sure you are purchasing lights with the same start-up time for the best performance.